WHAT IS AN ASSISTED LIVING COMMUNITY?
An assisted living community offers long-term senior care and personal support services such as bathing, meal preparation, dressing, transportation and medication management. Our senior housing search tools can help you find an assisted living facility that will meet your needs.
FACTS ABOUT SENIOR ASSISTED LIVING
There are approximately 31,100 senior assisted living communities in the U.S.
In total there are approximately 475,500 assisted living apartments.
There are roughly 735,000 people currently living in senior housing with assisted living services.
Average length of stay at an assisted living facility is 36 months.
Roughly 40% of residents receive help with three or more activities of daily living (ADL).
Source: National Center for Assisted Living
REDEFINING SENIOR HOUSING & CARE
Once a relatively new concept, today assisted living facilities are one of the fastest growing long-term senior care options. Assisted living facilities provide a senior housing solution for adults who are able to live independently for the most part but require some assistance with day-to-day activities.
For many seniors, assisted living allows elderly individuals to get the care they need to flourish later in life while still maintaining their independence. Assisted living facilities also focus on providing residents with opportunities to remain socially active and engaged.
COSTS ASSOCIATED WITH ASSISTED LIVING SERVICES
Many assisted living communities charge a base rate that covers all assisted living services as well as additional fees for special services. Most communities offer month-to-month living arrangements, however long-term options are also available.
Assisted living costs vary depending on the following factors:
Type of residence a person resides in
Size of the apartment
Types of assisted living services that are required
The location of the assisted living community
In addition to room and board, base rates typically cover daily meals that are prepared by the assisted living community. There may also be deposits, housekeeping fees and laundry costs that have to be paid separately. These costs vary by community, which is why it's important to ask each assisted living facility for specifics about their costs and services.
According to Genworth.com, in 2014 the national average cost for a one-bedroom assisted living apartment was $3,500 a month. That's 1.19% more than 2013 and a five-year annual growth of 5.71%.
ASSISTED LIVING COSTS IN CANADA
Alberta: average assisted living costs were $2,798 a month in 2013. Prices ranged from just over $1,800 to roughly $4,300 for the most expensive two-bedroom apartments.
British Columbia: average assisted living costs were $2,747 a month in 2013. Prices ranged from just under $1,500 to over $6,000 for the most expensive two-bedroom apartments.
Ontario: average assisted living costs were $3,204 a month in 2013. Prices ranged from roughly $1,750 to just over $5,000 for the most expensive two-bedroom apartments.
COMMON LONG-TERM SENIOR CARE SERVICES
If you've seen one assisted living community, that doesn't represent the care you can expect at other facilities. Each state has unique licensing and regulations for assisted living facilities that can affect the types of services offered.
One of the best examples of how services can vary is senior assisted living facilities that are attached to or share a campus with a skilled nursing facility. These communities can provide more advanced medical care compared to other assisted living facilities. However, all assisted living communities should provide basic medical monitoring and activities of daily living (ADLs) for seniors. Common ADLS include:
Dressing
Eating
Mobility
Hygiene
Bathing
Toileting
Using the telephone
Shopping
Other basic services that are typically offered in assisted living facilities include:
24-hour supervision
24-hour security
Daily meals
Housekeeping
Laundry services
Health programs
Exercise programs
Social programs
Transportation
Medical services
It's important to note that "assisted living" is an industry term used to describe specific communities. The term "assisted living" may or may not reflect that a facility meets state requirements concerning licensing, level of care and/or the services. When considering assisted living communities you should request to see the facility's license. You can also contact the local licensing authority to determine if a facility meets current regulations.
FAQS
What exactly is an assisted living facility, and who qualifies for it?
An assisted living facility is a type of senior housing that's designed for independent individuals that need medical care or monitoring and assistance with daily activities. It's meant for seniors that need a little extra help but not the intensive medical care provided at a nursing home.
How is an assisted living facility different than a nursing home?
The medical care at a nursing home is much more extensive and closer to what you would find at a hospital. Assisted living facilities, on the other hand, resemble a typical apartment community, except there are medical professionals on staff to assist the residents.
Is assisted living considered a long-term care option?
It can be. There are communities that offer both short-term and long-term living arrangements.
Will insurance help me pay for assisted living for my loved ones?
There are some insurance policies that will cover the cost of an assisted living facility. Medicare, Medicaid and veterans benefits can also be used to pay for assisted living services by people who quality. Veteran's spouse benefits are another way to pay for an assisted living facility.
Are there different types of assisted living facilities to suit different needs?
Assisted living facilities are a type of senior housing, but each community offers something unique. That's why it's important to become familiar with all the available options and tour facilities to find out if they meet your needs.
Search Senior Living Options
Featured Properties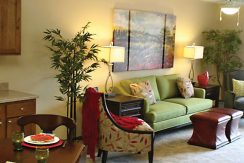 Bartlett, TN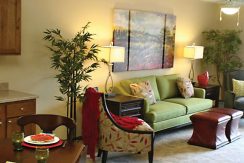 Kansas City, MO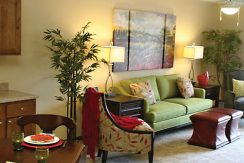 Wichita, KS